How to gift wrap an order
In this article, we will see how you can get your order gift-wrapped. Let's get started.

How to Enable Gift Wrap Option to Your Order?
While creating an order, just select the Gift Wrap check box from the Order Add-On section

Reference as below: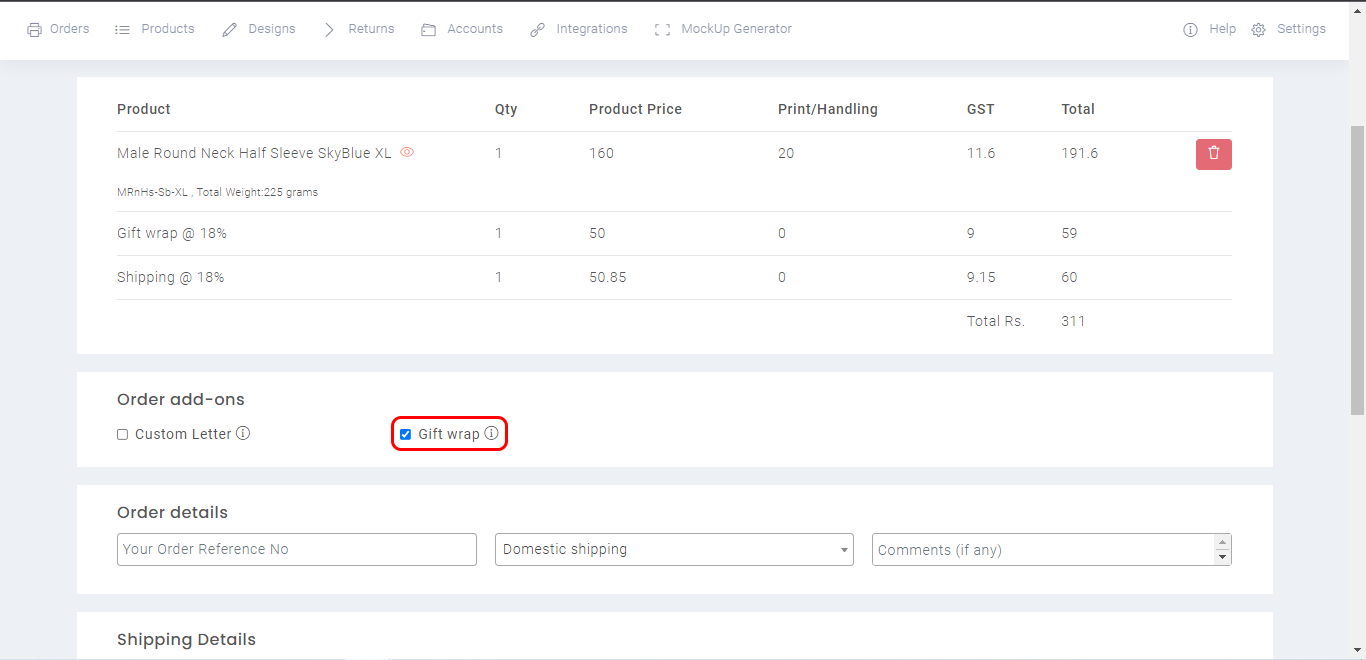 All the products added to the order will be individually gift-wrapped

Pricing:
Gift wrapping costs Rs.40 + GST per Product.
Related Articles

Order Statuses for Processing

ORDER STATUS The orders will be changed to various statuses such as: ORDER STATUS INFORMATION On Hold Insufficient credits, click on the live button to know the required amount to be added to the wallet to make the order Live. Live orders are only ...

How to edit or cancel an order?

You can cancel an order until it is in "Live" status. How to cancel an order? Step 1: If you wish to cancel an order after you have placed it, go to Orders > All orders Step 2: Select the order that you wish to cancel. Step 3: Click on the "X" icon ...

How to Edit or Cancel an Order?

In this article, we will learn how you can edit products, customer details and cancel an order. Edit Products - Add/Remove Product after Placing the Order Once the order has been placed, you cannot make any changes to your order. Edit Customer ...

Bulk Order Requests

Have a bulk order? We are equipped with state of art screen printing, DTG (Direct to Garment), digital printing and embroidery machines. You can rely on Qikink for team t-shirts, event merchandise, corporate orders, retail store sales etc. Write to ...

Place your sample order with Qikink

This article will show us how to place a sample order with Qikink. Before you place a customer order, it is important that you place a sample order. Product samples help you ensure each order for your store is a worthwhile investment for you and your ...