Setting up the Courier Priorities and Exclude Courier list for order

Amazon orders must be shipped through specific couriers like BlueDart, Delhivery, Xpressbees, and IndiaPost. They cannot be shipped via Ekart and Ecom Express.
What is Courier Priority and Exclude Courier

Setting up Courier Priorities is selecting your preferred carrier to ship all your store orders without having to select one for each order. You can add up to 5 carriers to the list. If the first carrier isn't serviceable, it autoselects the second priority carrier.


Exclude Courier is adding carriers with whom you do not wish to ship your orders.

We highly recommend not adding Delhivery and India Post to the exclude list as Delhivery is the only courier that serves 24000 pin codes across India. India Post is used only when the order is not serviceable with any courier company.

How to
set the
Courier priorities
and
Exclude Courier
list for orders.
Follow the below steps to set up your desired courier list.

Log in to the Qikink Merchant Dashboard
Go to Settings > Shipping

Select preferred couriers from the dropdown

Select up to 5 couriers on the priority list
Click Save Courier Priorities & SMS Name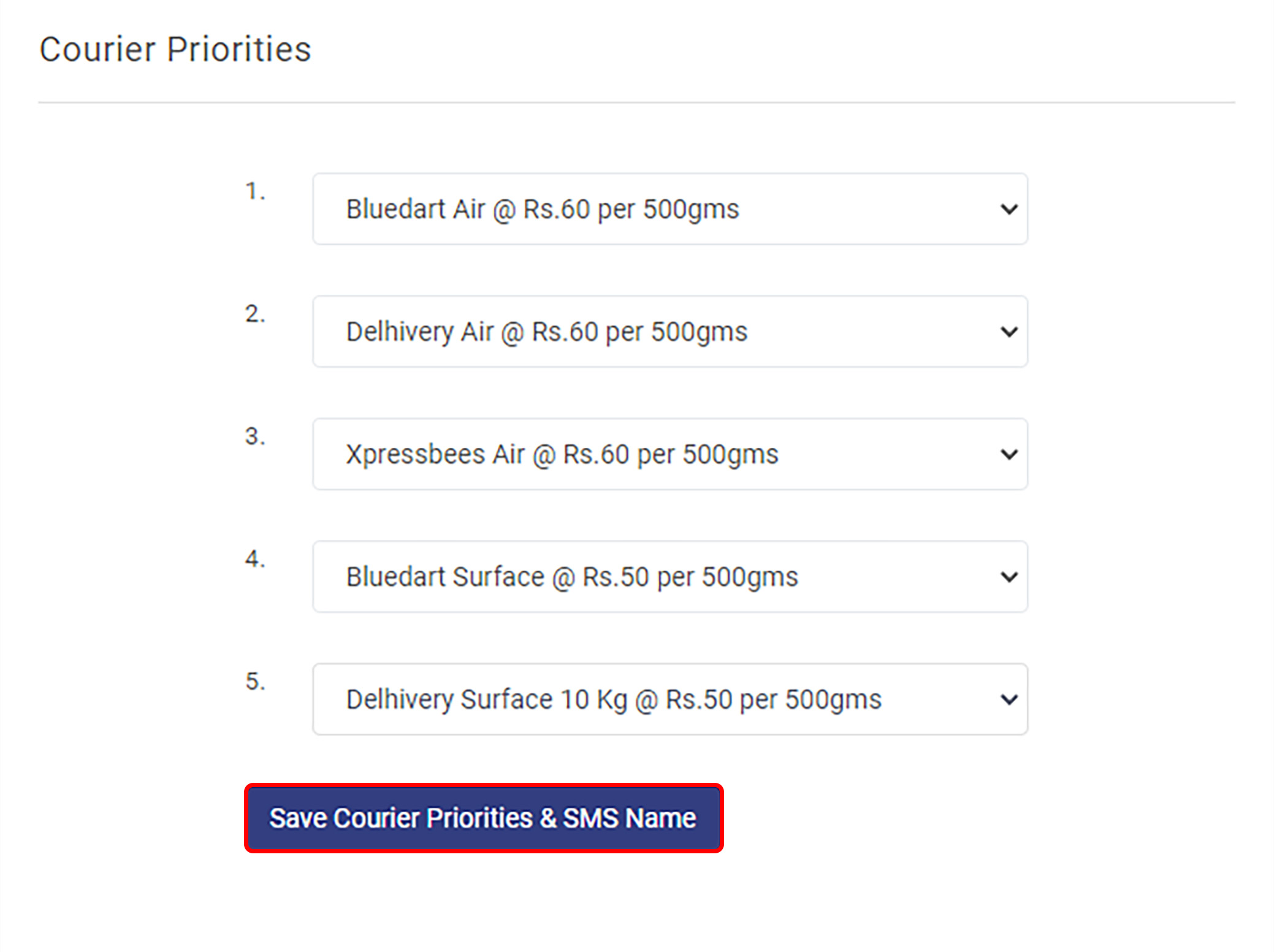 Follow the same step in Exclude Courier List and Click on Save Exclude Courier List.


Amazon sellers should enable this Exclude Courier option to not ship their packages via Ekart and ECOM Express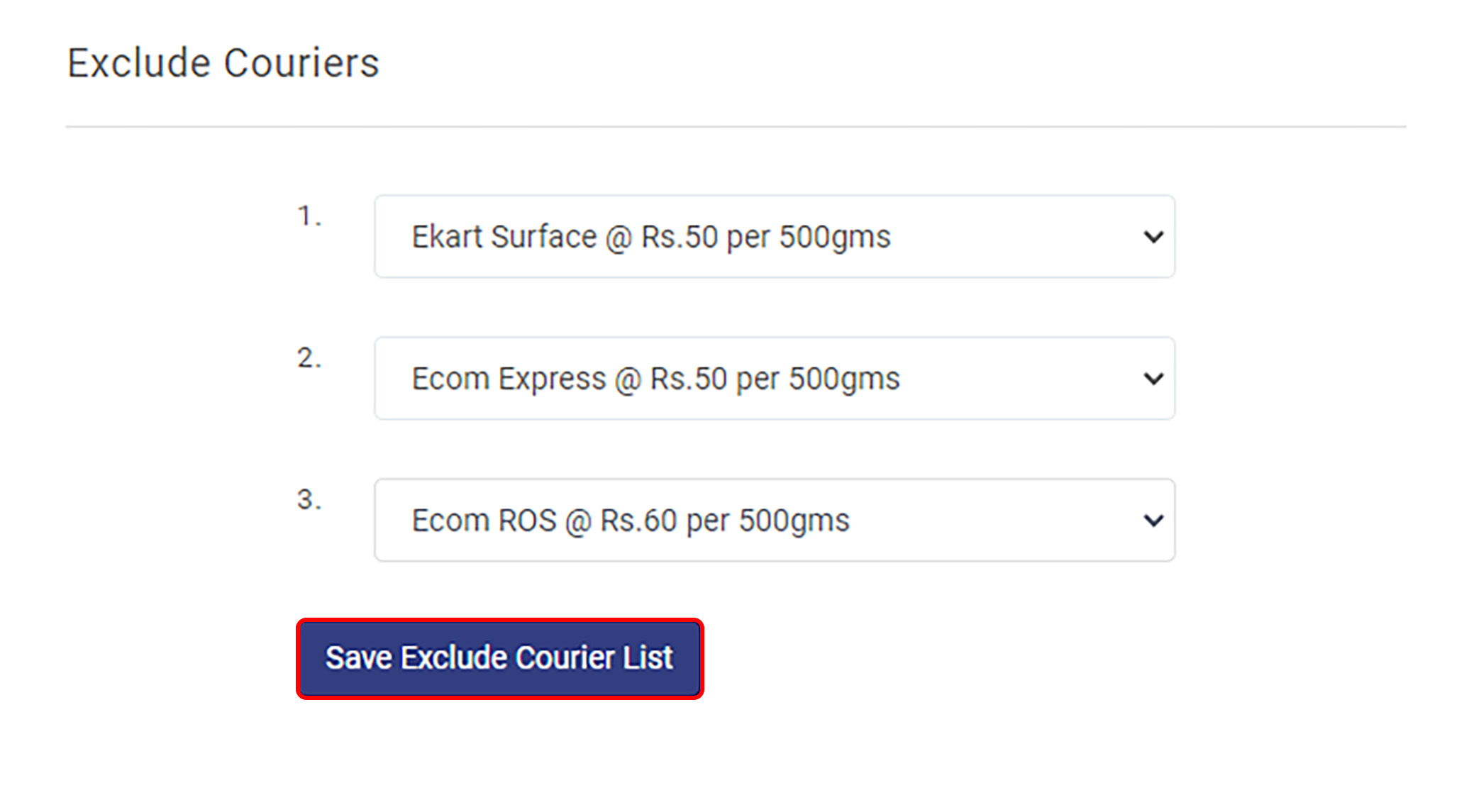 If Courier Priority and Exclude Courier lists have been saved already, orders will be booked on that priority list only.

In rare cases, orders may not be booked as per the above courier preferences. It's mainly due to the shipping partner's API being down. Such cases are hard to avoid. Contact our customer support to seek assistance in these circumstances.

Related Articles

How does self-shipping work with Amazon orders?

Dropshipping on Amazon is now easy with Qikink. Here we are going to see how Qikink processes your seller-fulfilled orders. Order Processing Once an order is moved to "To Be Printed" status we start processing it. Since we all know Amazon orders are ...

Shipping Escalations

In this article, we'll see how to handle different shipping escalations. So let's get started. Order Shipping Status is Undelivered If your customer has not received a call during the delivery or an attempt was not made, write to us within 24 hours ...

Shipping Statuses

After the shipping label is generated, you can track your order from the dashboard. The tracking ID will be any of this status below : Pickup Scheduled- An order for which the Pickup Request has been generated and sent to the courier company is ...

India Post Shipping Services

Qikink will ship your products through India Post when your customer's pin code is not serviceable by any couriers. Unlike other shipping providers, India Post's shipping charges will be shown at the time of assigning it. Qikink will charge the usual ...

List of serviceable pincodes

We ship all the orders via Delhivery, FedEx, eKart, Expresses, ECom Express, and India Speed Post. There are a few pin codes that are not serviceable by them on a prepaid or cash-on-delivery service. In such cases, the orders are shipped via India ...