Add a Custom Letter to your Order
The efficient way to increase customer loyalty and reputation is to have a personal touch.

In this article, we will see how you can use the custom letter and how to can add one to your order.
How you can use the custom letter?
A custom letter is a combination of colors, artwork and fonts. It can be designed for a greeting, as a brand note, a coupon, a customised letter to your dear ones or simply work as a thank you card.

Custom letters are in

Letter Size - A5

Print Size - A5 or 210 x148mm
Paper Quality - Pearl White Texture Paper

Printable Area - Single side

File Format - JPG / PNG
Print Color - Multi-color

Envelope - Standard White Envelope

Price - Rs. 40 (18% GST Exclusive)
How to Add a Custom Letter to Your Order
While creating an order, just click on the custom letter check box.
A pop-up will be shown, upload your design and complete the order.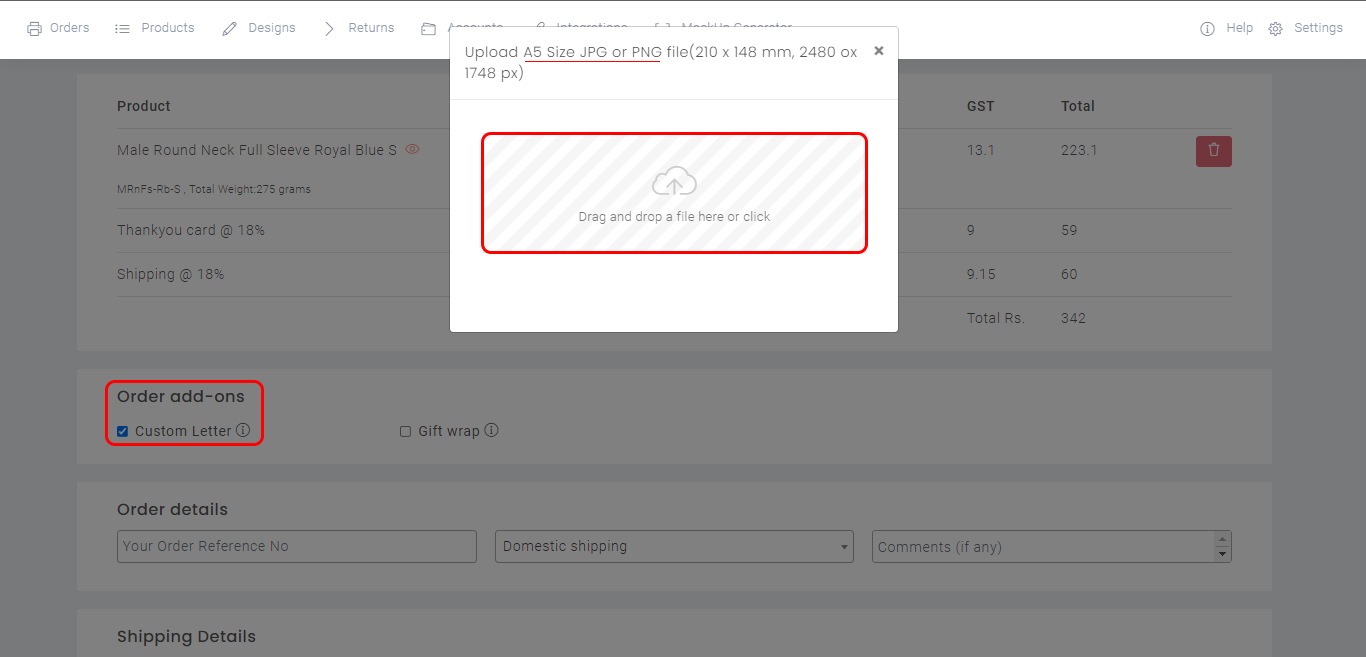 One order can only have one custom letter

Design is non-editable after the order is placed
No cancelation
after you have opted for the custom letter service
Related Articles

Custom Branding Services

We expect your brand to be loud enough to be better experienced by your customers. Qikink offers unique branding options to enhance your brand and set your standards high. Your brand is the single most important investment you can make in your ...

Custom Branding Services - Inside Neck Labels

A brand is a set of expectations, memories, stories, and relationships, that taken together, account for a consumer's decision to choose one product over another - Seth Godin The best way to visually express your brand identity is with brand labels. ...

How to Place Accessories Orders?

In this article, we will see how to place an accessory order with Qikink. Before we go ahead, here are a few things to remember Product Branding- Neck labels and Hangtags are applicable only on apparels products Order Branding - Thank You Cards and ...

How to Place an Order for All Over Printed Products?

Preparing Design File Only repeated pattern designs can be printed. Check out this to learn how to prepare a design file for AOP products File Dimension: Height - 27 inches | Width - 36 inches Resolution: 300 DPI File Format: PNG Create an AOP order: ...

Processing Copyrighted Designs

Qikink prints custom designs uploaded by clients. Qikink is a printing partner for companies with various merchandise licenses. So as a fair practice, we do not print copyrighted designs without licenses or reseller permissions from authorised ...