This article will show us how to place a sample order with Qikink.

Before you place a customer order, it is important that you place a sample order. Product samples help you ensure each order for your store is a worthwhile investment for you and your customers. You can determine if an item fits your brand, meets your quality standards, and will live up to your customer's expectations.
Here's how you can place your order.

Step 1: Log in to your Merchant Dashboard

Step 2: Go to Orders > Create Orders

Step 3: Select the Category and Product

Step 4: Select the Size and Color

Step 5: Enter the Quantity

Step 6 : Select the Print Area - Front, Back, Left pocket, Right pocket, Left Sleeve, Right Sleeve

Step 7: Click on Add Design
Step 8: Click on Add to Order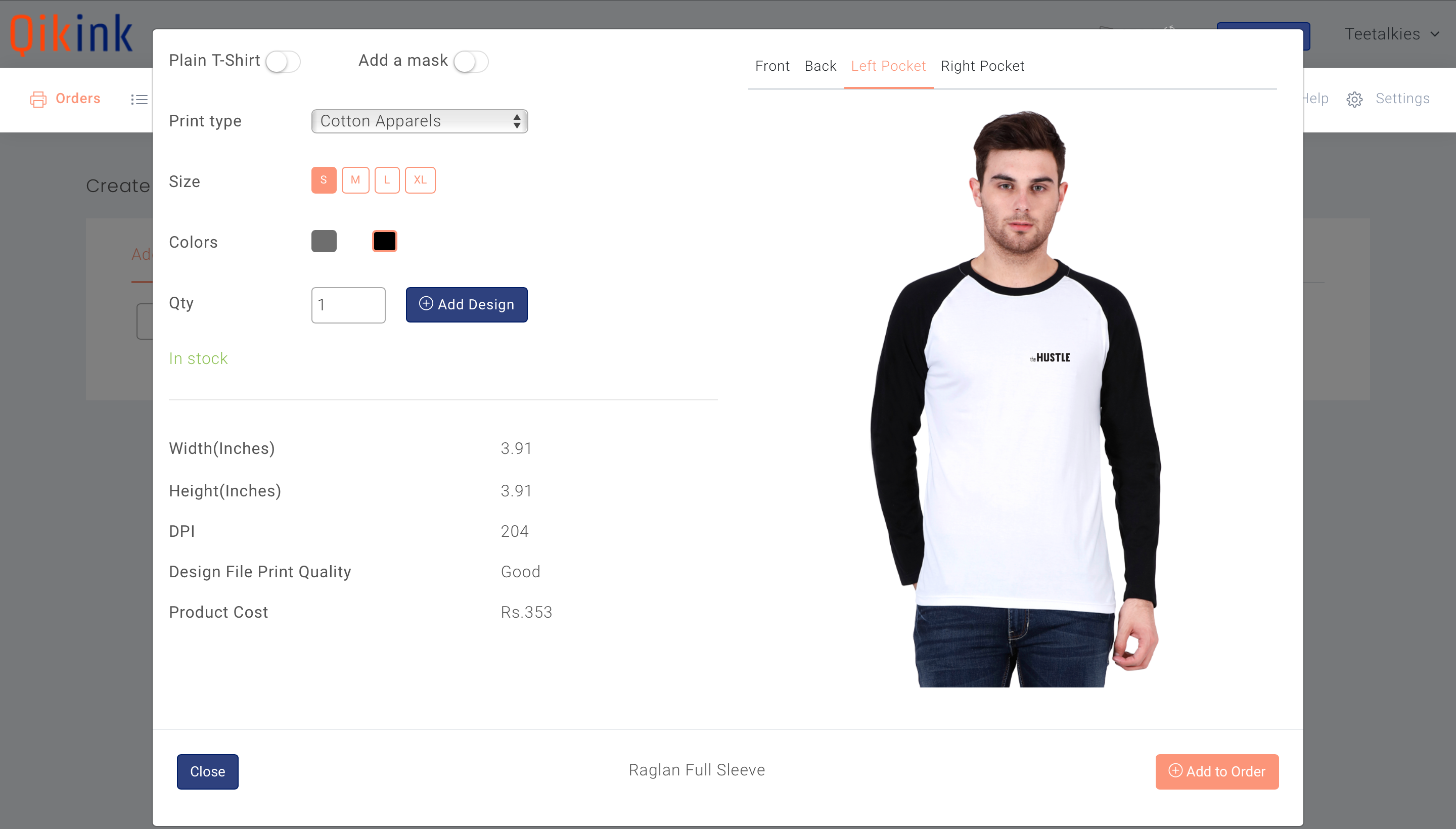 Step 9: Enter your order details like Order Reference Number, Shipping type, and add your comments.
Step 10: Fill in the shipping details - Payment Mode, Delivery Pincode, and select Carrier.


If your customer has made the payment to your bank account, you have to select PREPAID under Payment Mode

If your customer has requested to make the payment upon delivery, you need to select CASH ON DELIVERY and enter the amount to be collected from the customer under ORDER VALUE
Step 11: Enter the customer name, contact number, address, email ID, and your order value


Your order value is your retail price or the amount you have charged your customer.
Step 12: Recharge your wallet with the money to confirm your order.


You have to recharge your wallet with sufficient money to place your order with Qikink. However, there is no minimum recharge value. You can recharge while you place an order.

Step 13: Click on Save Order.