Integrating your Shopify store with Qikink

You can integrate your Shopify store with Qikink once you sign up

Connect With Shopify

You can connect your Shopify store with Qikink in a quick few steps. Here's how to do it:

1. Login with
apps.shopify.com
and click this link -> and click the "Add app" button.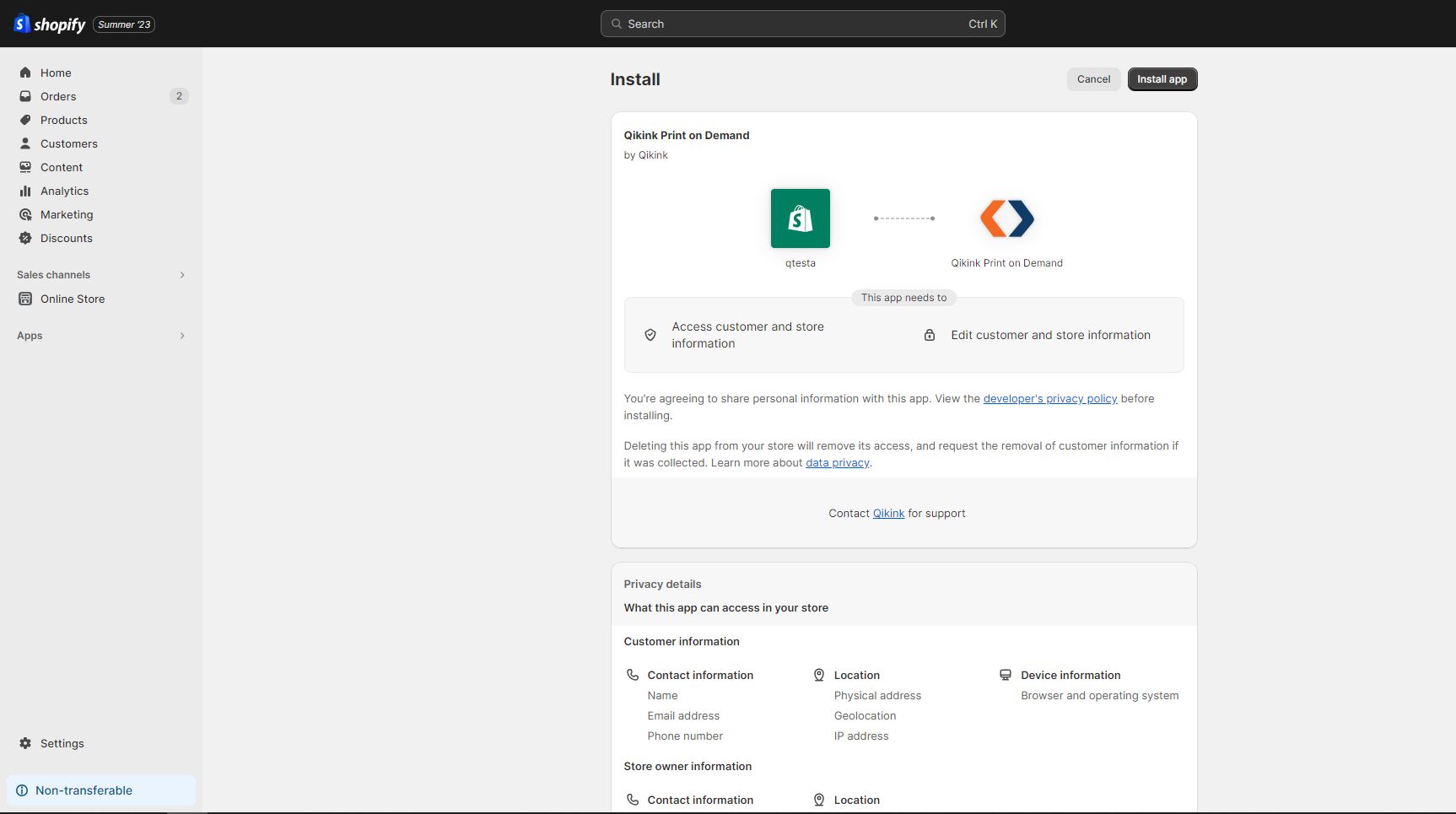 2. Signup if you don't have an account in Qikink. If you are an existing user and log in with email and OTP.
3. Once the Login was successful you will see a message that your store was connected with Qikink successfully.


Designs details such as design name, code, width, height, placement, and design URL must be added for every design


Order Processing

Click the Live Button to make the Order live.

The orders will then be fulfilled by Qikink.
Related Articles

Integrating your Woo-commerce store with Qikink

To connect your Woo-commerce store with Qikink, you must sign up with Qikink. Integrating your Woo-commerce store with Qikink is easy. You just need to install the app and simply connect it with Qikink. Once your store is connected, we process all ...

How does Stock Sync work with the Shopify store?

The "Stock Sync" Option is now available only for Shopify users. We will be launching it for WooCommerce users soon. What is Stock Sync? The Stock Sync option is now live with Shopify-integrated users. If your push product from us goes out of stock ...

Push products to your Shopify or Woo-commerce store

To eliminate the process of adding products to your store manually, Qikink offers Push Products feature to save up your time. In this article, we will see how to push products to your store. Step 1: Log in to your Qikink Dashboard. Step 2: Go to ...

Guide to sell on Amazon using Dropshipping

Hi there! Ever thought about Amazon dropshipping? It's a solid idea. Amazon is one of the world's most recognizable brands, after all. On top of that, there's strong trust and fierce customer loyalty among Amazon shoppers. By dropshipping on Amazon, ...

How to Sell on Amazon without GTIN

In this article, we will see how you can apply for GTIN exemption if you do not have a brand registered. What is GTIN? GTIN is a product barcode also known as Global Trade Item Number. It is mandatory to have GTIN for all your products to get listed ...