How to place Bulk Orders?
We are equipped with state of art screen printing, direct-to-garment- digital printing, and embroidery machines. You can rely on Qikink for store order fulfillment, team t-shirts, event merchandise, corporate orders, retail store sales, etc. There are two methods by which you can place orders.

Fulfillment Order:
To print in bulk, store them and use them for order fulfillment, you can place the order via a dashboard from

Orders > Create Bulk Order
Select the Product and create the order as like on the image below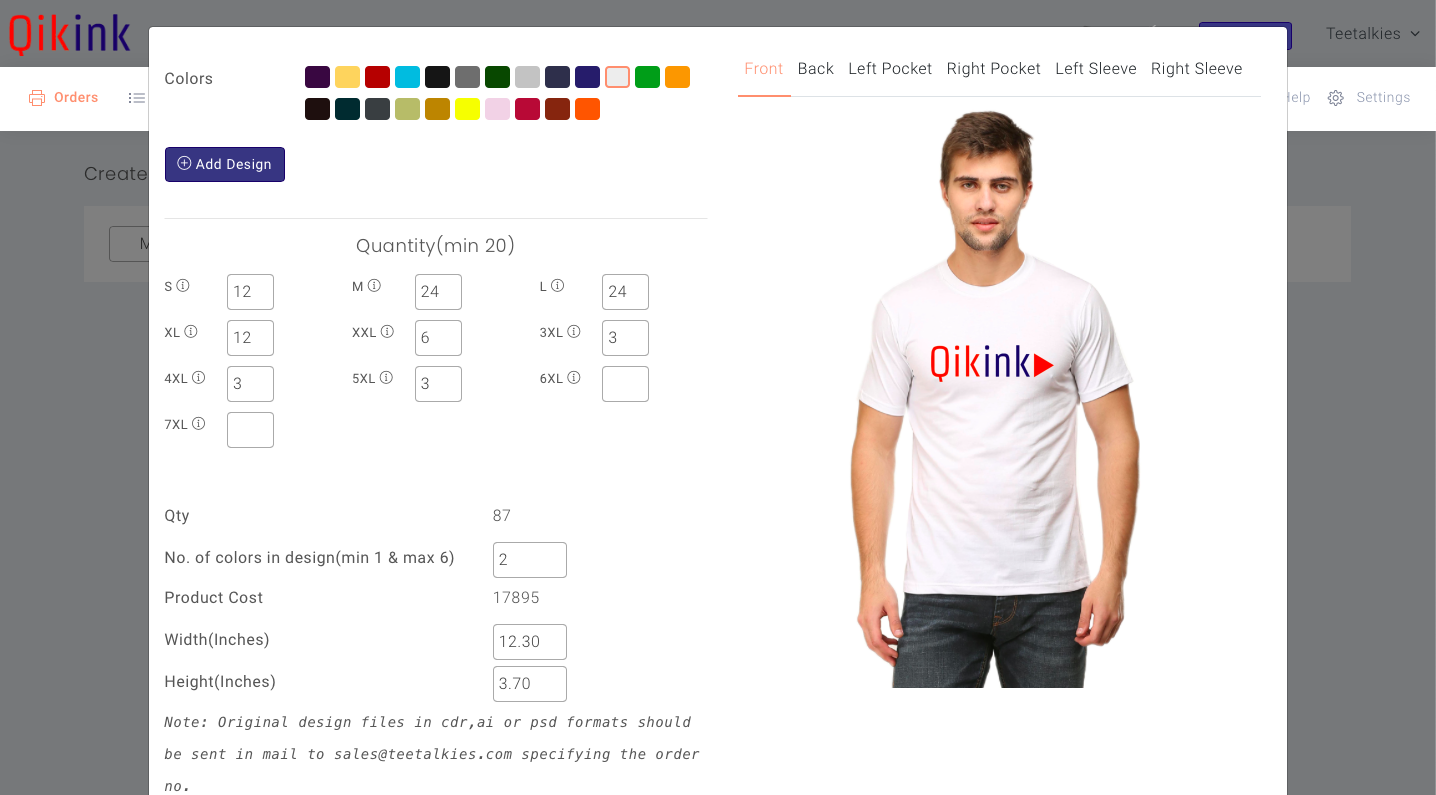 After the order is created, Qikink prints in bulk and stores the order.
When you get the same order again, the system will automatically fetch the product from the inventory.
Bulk Dispatch Order:
For events, corporate requirements, or for offline sales, you can e
mail your design, product, and quantity details to
sales@qikink.com
for a quotation.
Related Articles

How can I place my store orders with Qikink?

The process of placing store orders can be automated with API Integration system. After integration, your customers orders will be reflecting in our dashboard automatically. You can change the settings to process the orders without your verification ...

Order Reference Number

Order Reference Number is the unique numeric identifier that you generate when you place an order. If your store is connected to Woo-commerce or Shopify, the Order Reference Number is generated automatically when an order is placed on the website. ...

How to place COD orders?

Placing a COD order is easy as it sounds. Yes, All you have to do is select the payment mode as COD (Cash On Delivery) under the Shipping Details while placing an order. To reduce the COD returns, follow these steps to optimize. You have to pay for ...

How are orders printed at Qikink?

All orders placed on our dashboard directly will have a mockup of the product attached while processing the order. Such orders are printed as per the mockup provided. Orders that are placed using the excel file do not have a mockup, hence they are ...

Error while creating an order

Encountered an error or mistake while placing an order? That could be a problem when ordering your urgent or first order. Most people have explored this. Try the following methods to resolve this, Check that you selected all the required fields. Try ...