Embroidery - Getting Started
Digitisation:
Designs needs to be Digitised before embroidered on the garment.
The process of digitising a design file is an expert level manual process, which converts your PNG/JPG file into an embroidery ready stitch file.
You upload your embroidery design to the merchant dashboard for digitizing. Once we digitize your file, you can start placing orders for those designs. Or you can upload design file while placing an order as well.
Digitising the design takes 2 days, and the Dispatch time for embroidery order is 3 days. Click here to know more about digitization.
Design Guidelines:
The elements in the embroidery design needs to be clear and bold.

Thin lines are hard to process through embroidery.

Small texts and borderline shades are hard to process through embroidery.




Complex graphic designs may not 100% match in the final embroidered product

The measurement of an object or text should be a minimum of 1x1 (width x height) Inch.

Design formats for uploading designs: PNG or JPG

Max embroidery area for Polo T-Shirts: 3.5 Inch x 3.5 Inch

Tip: Simple designs with neat typography and minimum color graphics are the best-suited files for embroidery.
How to Place an Embroidery Order?

Login to your Qikink merchant dashboard and Go to Create order.




Go to Men's Clothing>Polo T-Shirts.

Select the embroidery from the available print types.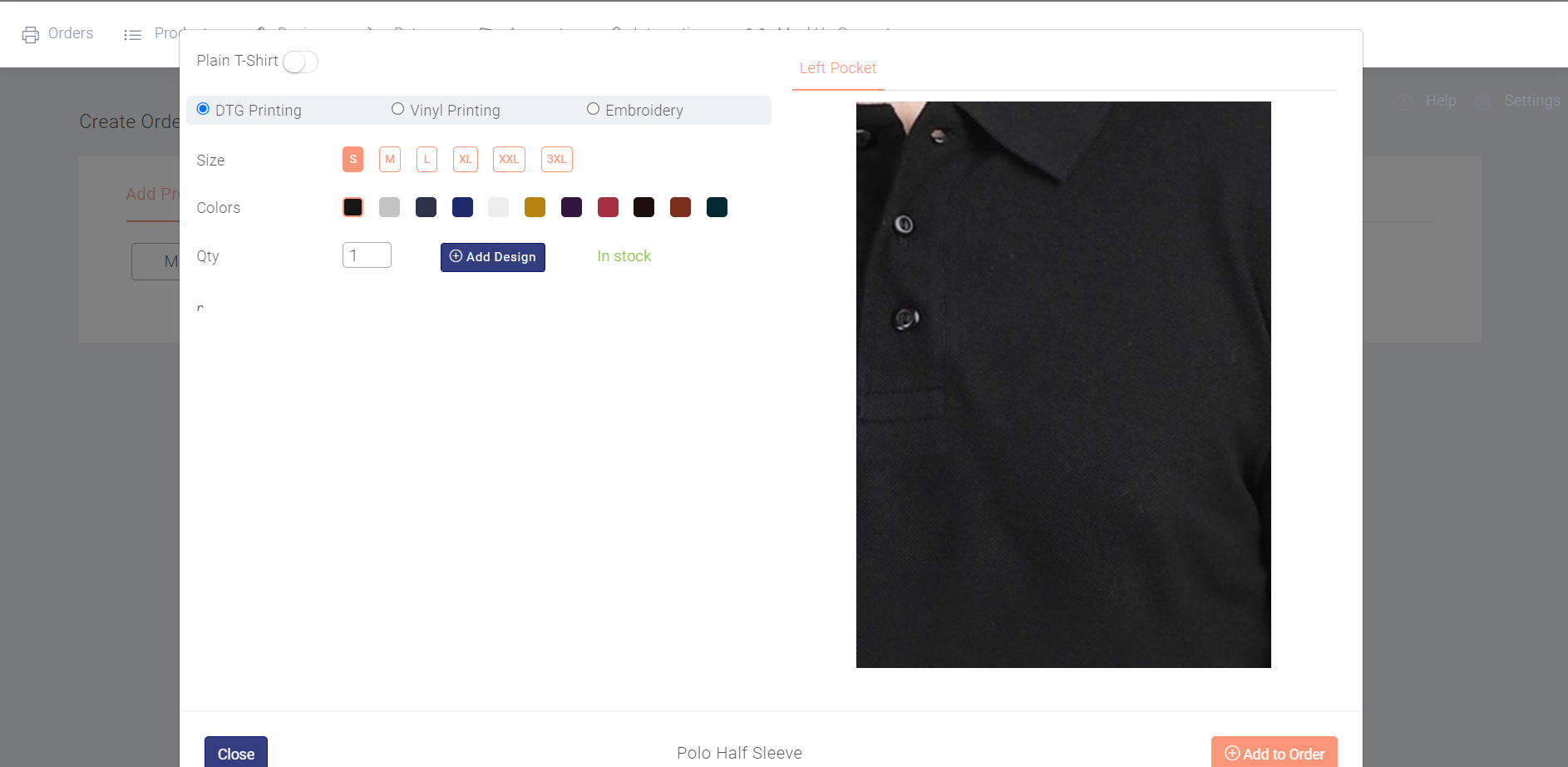 Click Add Design> Add New Embroidery Design to upload your graphic design.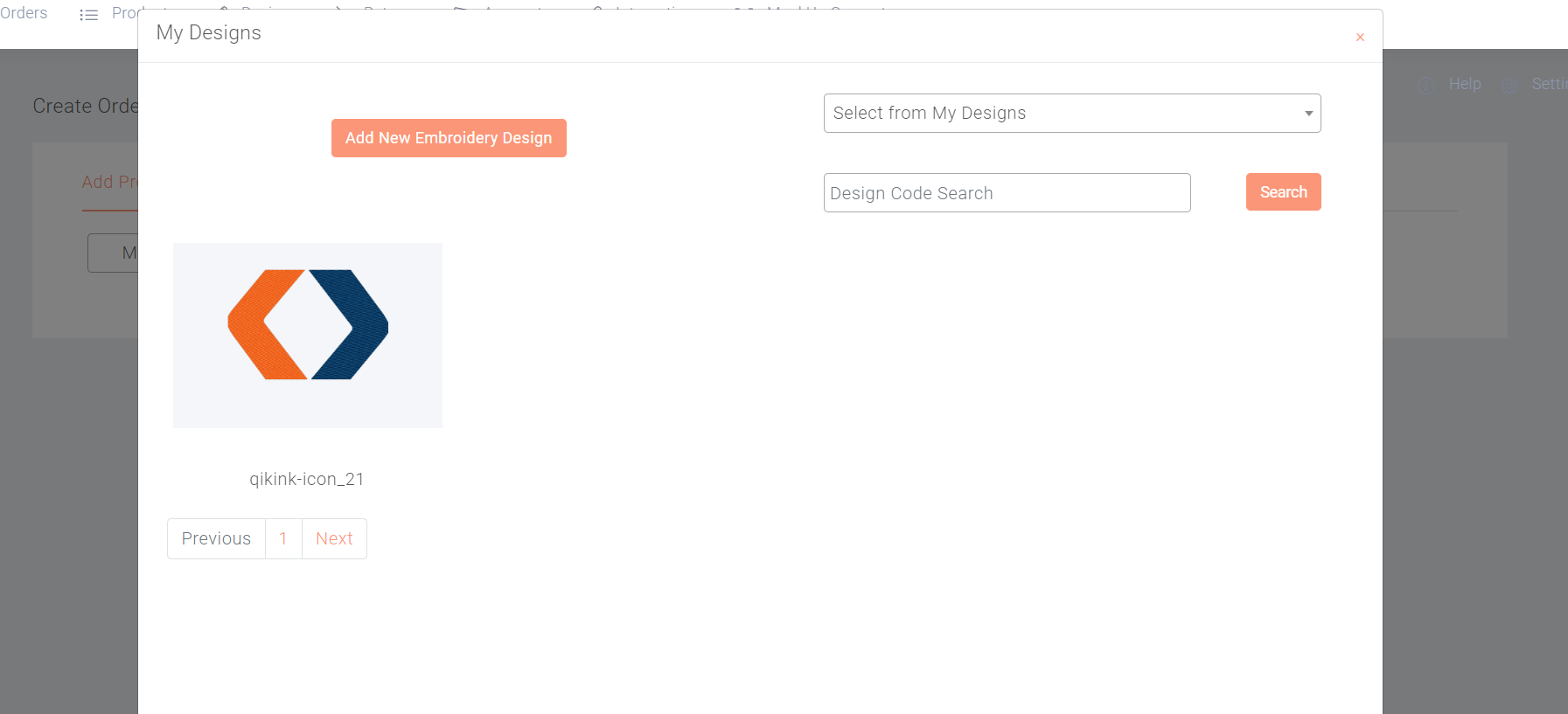 It will take 20 seconds to load and show your design like the embroidered design file.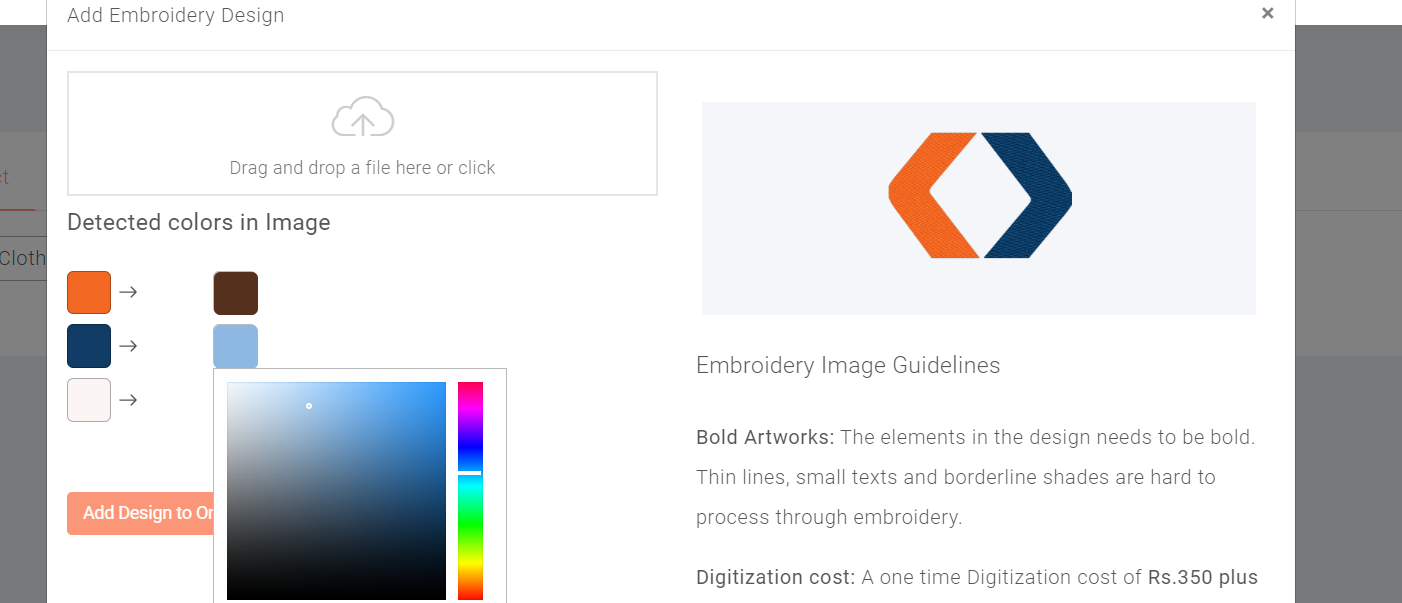 Colors in your design will be validated and separated. You can now change the color by entering the hex codes in the respective fields.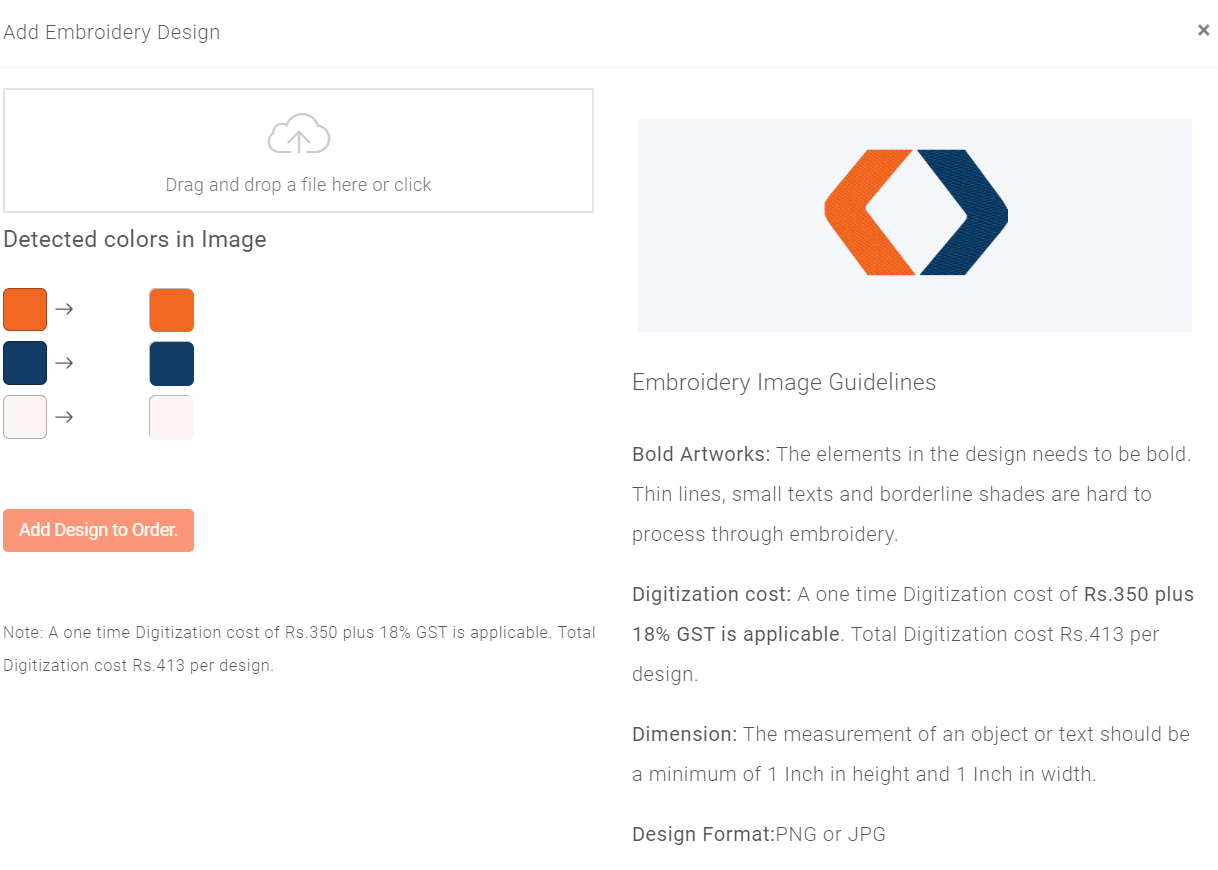 Once you finished choosing colors, click on Add Design to Order.

You will be charged Rs.413 as one time digitizing fee for the design.

After, You can fill up the other order details such as shipping and order information to place the order.

Embroidery charge of Rs.100 will be charged for printing.

Whenever you place an embroidery order with the same design again, you will be charged Rs.100 for printing without a digitizing fee.
Related Articles

Dropshipping and Print on Demand with Qikink

Build your online store with low risk and zero inventory and without worrying about fulfillment. Qikink will handle all your fulfillment and shipping so you can work on building your brand and marketing. In this article, we'll cover how you can get ...

Payments and Order Fulfillment

Once you have connected your store with our Dashboard and started receiving customer orders, here's how the payment and fulfillment works. Prepaid Order Fulfillment Step 1: Customer Pay To You In Prepaid orders, the customer makes a payment to you ...